Sophia is already 7 and we just had her birthday party a few weeks ago at the local Humane Society (she LOVES animals!) - in fact all my kids love them so much that both Sophia and Rochus have said they want to be veterinarians.....although this week they are now going to be teachers....and I am pretty sure they have also wanted to be palaeontologists, and a Stay At Home Parent too!..I am so proud of them!
LOL, sorry for that bit of preamble, but I have so much I want to share!
So we just had Sophia's party and for whatever reason I woke this morning with an idea for her birthday party for next year and we tested a part of the idea today.......
We saw these amazing sea creatures at The Vancouver Aquarium and I could have stood gazing at them for hours (maybe even days!)...I've even contemplated having a ginormous fish tank at home and stocking it with the beautiful jellyfish. But don't worry I won't, I am sure somehow, somewhere it probably is not allowed! So what better way to get closer to these beautiful creatures than creating our very own version at home......once you make one, I warn you, you will not be able to stop and soon you will have a whole sea of them :o)
Couldn't you just admire them for days on end?! *sigh*....well now we can, onto our very own non-stingy variety........the kiddos had so much fun running around the house and even put on a play with their new creations - I Love That Mom they all said! I enjoyed it too, watching the fragile tentacles (is that what they are called?) on the jelly fish, watching them float and sway around. It was so rewarding watching their happy faces running around the house. The creations are now hung on the light above the dining table and the kids love to watch them swaying in the breeze. It's very zen like and you feel you are close to the sea!
You could make the pretty jellyfish in different colours. If you end up using material (strips of organza, crepe) make sure it is non-fraying and thin, this way you can enjoy your beautiful jellyfish that much longer!
We will definitely be making a sea of these ethereal creatures in time for Sophia's 8th Birthday! ;o)
What you will need:
Tops of slurpee/cold drink cups (the rounded ones work best)
Pink mesh (or any other colour you like) or scraps of thin non-fraying fabric
Different shades/widths of pink ribbon
White ribbon for contrast (I used a cream coloured one)
Glue gun - unfortunately my much loved Modge Podge will not work on the plastic lids :o(
Scissors
Firstly cut two squares out of the mesh that are large enough to cover the lid with overhang.
Glue the mesh onto the underneath of the lids first....but watch out for your fingers as using a glue gun results in hot glue - which is definitely not a good thing for your fingers! Next glue the mesh on top. Trim off the excess mesh hanging over the sides of the lid and this is what you end up with:
Cut the different ribbons into various lengths and widths. Using your glue gun take each style of ribbon and glue down close to the middle on the underneath of the lid.
Finish off the lid by gluing a ribbon of your choice around the outside of the lid.
To finish off the top for hanging purposes, cut a ribbon to the size you would like to have it hang down and glue down on top of lid. Cut a circle from another ribbon and glue on top of where you have already glued down the hanging ribbon.
Have fun creating your very own underwater world of these amazing creatures!
Quin xo
P.S.
Can you guess the theme of the party? I'll keep sharing ideas for the party for the rest of the year and trust me I am so excited to already start on this birthday project! I know, I'm crazy right?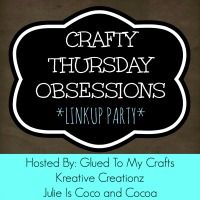 WooHoo The Jellyfish craft has been featured here: